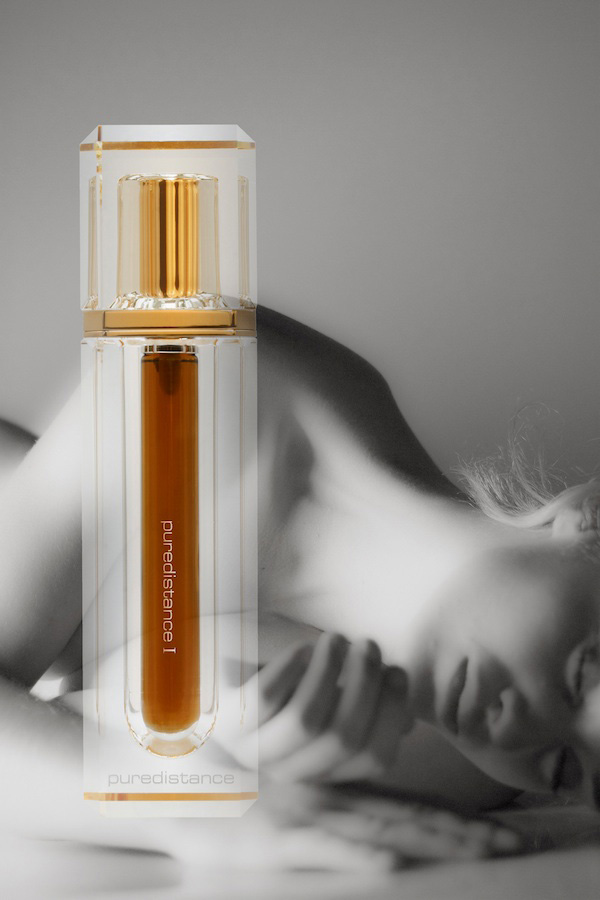 My idea for this "review of reviews" (and I might do more of them – let me know what you think) is to give readers a sense of how I try to determine if I should try to obtain at least a decant of a scent I've never sampled.  However, I think there will be more interesting insights to come of it; you can just for yourself.  On another level, though, I think that I may have gotten to the point where I find how people perceive these olfactory concoctions to be more interesting than the scents themselves, with perhaps a few exceptions.  I want to start with I by Puredistance because it's the first fragrance reviewed in the 2018 edition of "Perfumes: The Guide," and it was given a 4 star review (by Luca Turn).  In that review, what he learn of the actual smell is that it's a smooth, fresh powdery, abstract floral.  We also learn that the ingredients probably cost a lot, it is of a "classical" style, and that the perfumer was Annie Buzantian, whom LT considers one of today's best perfumers.
What we don't learn is if he will wear it sometimes, if he thinks it has "unisex potential," at least for some male demographics, and what fragrances that cost a lot less it is similar to (and I'm sure more than a few readers would like to know these things!).  Over at Fragrantica.com, we can learn a few more things about this 2007 release:
The perfume opens as top note with a fresh, ozone-tangerine blossom blend with a hint of cassis, complemented with neroli bigarade and crisp watery nuances.

The heart of the fragrance warms to a sophisticated, modern blend of magnolia, rose wardia & jasmine; parmenthia & natural mimosa, before finally settling softly into the rich classical notes of sweet amber, vetiver and white musk.
The perfume extract contains 32 % perfume oil.
So, does LT want to smell this himself on at least a fairly regular basis?  What about on his wife?  Or other women?  Or children?  Or pets?  Could it be used as a room spray?  How about spraying it on a card, putting that card in a zip lock sandwich bag, and taking it out now and then, if you like it so much?  But my first question to him might be, who is going to want to buy a very expensive "late-sixties" type green floral scent who doesn't already own one that is "good enough?"  But for the moment, let's now turn out attention to the Fragrantica reviews, one of which provides us with a sense of the rationale for it (if you aren't poor):
This perfume is definitely perfect for any special occasion. I would suggest this perfume for wedding, opera, ballet, meeting with important persons, etc. And this perfume is not just really nice, but it also lasts all day.
"Soapy" seems to be a popular way of describing it, for example:
…opening with its bright, fresh combination of neroli, orange and other white flowers: very natural and uplifting! It dries down a little more soapy…
Now what's interesting about this to me is that the other day I was wearing Jaguar's Excellence (the EdT), thinking (again) that the drydown is something I would expect from a niche scent.  The notes for that one are:
…grapefruit and mandarin combined with pink pepper. A heart provides floral notes of lily of the valley, iris and orange blossom, to warm you up and to enrich warm and cuddly base notes of vanilla, amber and tonka.
So what could I get from the Puredistance scent that I couldn't get from Excellence (which cost me around $7 for a 100 ml bottle)?  There could be a touch of galbanum to create a green quality, though I might not like Excellence that way (and I could buy some galbanun, which isn't expensive, and add a bit to a decant of Excellence).  What about Halston's 1-12?  if you have patience you can get a vintage bottle on ebay for very little (as I did a few months back), and then you'll get a green floral scent of a "classic" style.  If you are male, you might prefer these more "masculine" compositions.  Speaking of male perceptions, one Fragrantica reviewer who is also a long time Basenotes member said this about the Puredistance scent:
High-end anti-aging cream type of smell. Inoffensive watery/ozonic floral that's nowhere close being even barely distinctive or interesting. Not to talk about the overall ozonic vibe.. Is this what you'd expect from an over 2000 bucks fragrance?

Do you like this smell? Get a Carita face cream. It's cheaper and, at least, it moisturizes.
Now I've also got vintage White Shoulders, and White Linen (not that I wear them), along with Teint de Neige, along with a "masculine" that possesses this floral creamy/lotion with citrus type quality (Yang, by Jacques Fath), but I rarely wear them.  Why would I even bother to try a free sample of I?  And even if I liked the composition and thought it was unique relative to what I already own, it's likely I could use layering to create a similar effect (does LT talk about layering at all in the book?).  And then when I look at the other reviews in the free Amazon preview for this book, I see that most were given 3 stars or less (5 is the highest rating).  My biggest criticism of this review, though, is that if this is a "classic" scent, then why can't LT which ones form the 1960s (or 1970s, or 1980s, etc.) that it is similar to?  That would really help those who might want such a scent and also have the patience to look for a bargain on ebay or at a local garage sale or thrift shop.  Again, I get the sense that he and his wife are not considering the fact that most fragrance hobbyists are not millionaires.