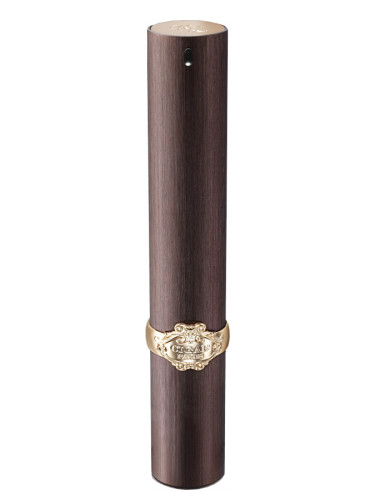 It's 2019, not 1999, so it's strange to see a line of fragrances that doesn't appear to be supported by the corporate web site.  I am referring to what appears to be the Remy Latour "niche" line.  The fragrances are in long, thin cylinder bottles made from brushed metal.  As you might expect, they tend to fall over easily, but otherwise the presentation is considerably better than you would expect from today's Remy Latour releases.  Here is their web page for "masculines:"
https://www.shop-parour.com/fr/28-homme
Note that the "parent company" is Parour, which also markets Lomani, Giorgio Valenti, and other "cheapos."  The bottles are 75 ml sprays, and there is a plastic wrap around the cylindrical container that houses it (there's a brochure in there too).  I saw some very good prices on a couple of these and purchased two, Essence de Bois Pecieux and Essence de Cachemire.  The former's notes are listed as (from Fragrantica.com):
…saffron, oregano, cardamom, cinnamon, nutmeg and incense; middle notes are papyrus and cashmere wood; base notes are sandalwood, cedar, patchouli, bourbon vanilla, ambergris and musk.
and for the latter:
…bergamot, rhubarb, watermelon and lotus; middle notes are sage, white rose, cashmere wood, sea water and iris; base notes are oakmoss, ambergris, tonka bean and musk.
EdBP reminds me of mostly of Perry Ellis Oud: Black Vanilla Absolute and Rich, Warm, Addictive by Zara, perhaps a touch more of the former.  It's not super strong (though it's certainly sweet) and it doesn't have much in the way of note clarity, depth, or complexity, despite the long list of "dark" notes.  It's pleasant and at least nearly unisex, but if you've already got something along these lines, I would not advise spending a King's ransom on it.  Some might find it cloying as well.  And because it does have a touch of a tobacco-like quality, some might reference Tom Ford's Tobacco Vanille when discussing it, but that's the problem, that is, I have only seen one bottle for sale in the USA, and I now own it!  I'm guessing these were meant for another market, but who knows?  It's a bit frustrating – what reason could there be for this in the "internet age?"
EdC is a Fahrenheit type of fragrance, but without the heavy gasoline/petrol, though with an aquatic note added.  It's fairly strong and lasts well, so again, at a low price I could see those who enjoy Fahrenheit (or thinking they would if it could be "modernized") wanting to own a bottle of this one.  I would consider wearing it in warm weather, but sitting in one place as it continually wafts up directly into one's nose may not be a great idea – it has a bit of a note clash to me.  There seem to be at least seven other releases of this type under the Remy Latour name, five of which marketed to women.  Fragrantica has them listed as 2014 releases, so one has to wonder why there is so little information about them by now.  At one time, when I didn't see any for sale, I thought they might be testing the market or had planned to release them but some problem delayed or prevented it.  However, it is clear that they are real, and one has to question what Parour was doing – why not create a short Youtube video about the line, for example?  If anyone knows more about this line, please comment and let us know!