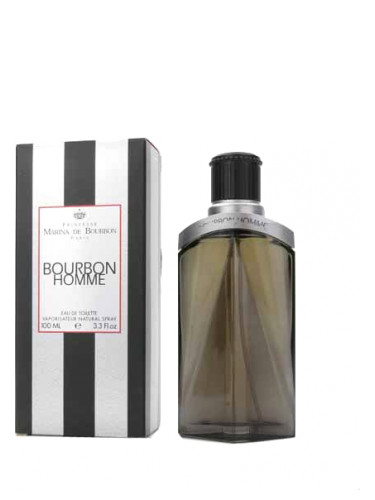 Over the last couple weeks I've been more interested in fragrances – I wonder if biochemistry is play a role. Whatever the case may be, I purchased a bottle of Bourbon Homme (1999) recently, as the price was so low and the reviews sounded good. The problem was that it also sounded like these two scents might be the same one, just in slightly different bottles. Pictured above is Bourbon Homme, which is described only in vague ways, such as "aromatic fougere" (on Fragrantica.com). On Amazon.com, it's "rich, warm, mossy woods." At Parfumo.net, it's "fruity-spicy." At Basenotes.net, it's "aromatic notes, fougere notes, spices."
I think the closest is "fruity-spicy," though it does feature an odd waxy quality, as if it is a candle. Here is my Fragrantica review for it:
"A reviewer on another site said this smells like Fig Newtons, and at first I certainly can understand that comparison. In fragrances that can be due to a combination of spices and amber, perhaps with a bit of tonka, vanilla, and/or some actual fruit notes. The sweetness is not beyond moderate. I think someone else said it has a candle-like quality, and it is a bit waxy. I don't get anything synthetic-smelling here, and there's nothing especially masculine; in fact I'm thinking it's a kind of "mini-me" Lutens type scent. Strength seems very good, at least, and I'll be curious to see what happens if I layer this with Cigar Aficionado, which will boost the complexity and perhaps dynamism as well.
UPDATE: After a couple hours a fruity quality becomes obvious, and now it's in line with Aventus, Black XS, and Magman, but more natural smelling than Black XS and spicier than Aventus. I am wondering if the inspiration for Aventus was in fact this scent!"
I do not get any fougere accord, and if there are woods they are the mildest I've encountered; this is also in the unisex range, perhaps just a touch on the "masculine" side. M. de Bourbon (1997) features the same bottle, but the glass is transparent and the liquid a light green color. Basenotes has the notes listed as, "citrus notes, lavender, spices, woods." This is the main part of my Basenotes review for it:
"This isn't sweet nor vanillic, and the fruit type element doesn't last very long with any potency. The main players in the drydown seem to be oregano or thyme and woods (pine and sandalwood perhaps), along with some dihydromyrcenol that is obvious from the beginning. It's like a less complex but more abstract Green Jeans, and features a clean smoke-ish quality (not "fresh""). It's also somewhat reminiscent of Oscar for Men (not Pour Lui). So, if you want a severe and dry pine/herbal scent and don't mind a bit of dihydromyrcenol, then I think you'll like this, as it seems strong enough not to disappoint. It doesn't change after the first few minutes and is at least reasonably strong, especially for a couple hours. Note the scent is in a transparent bottle with light green liquid; the other masculine by this house is in a dark-tinted bottle and is a different scent entirely."
There are two very different scents, though both are more blended than I tend to like, and M. de Bourbon can start to feel too "chemical" after a while (it might be best to mist the air and walk through the mist with your eyes closed). I see myself reaching for Green Jeans when I am in the mood for this kind of scent. On the other hand, Bourbon Homme may be my favorite "fruity-spicy," though I am not often in the mood for that type. Actually, it is the "feminine" scent by this company, A La Francaise (1998), that I prefer to these two "masculines," though I wouldn't reach for it if I were in a "fruity-spicy" mood. The notes for A la Francaise are black currant, galbanum, rose, iris, patchouli, and oakmoss, and this one does have good note separation (I can understand the name, as it has a Guerlain type of quality to it), though it's not sweet, as is Bourbon Homme. I noticed that these scents had the short list of ingredients on the boxes, so I am assuming they are rather old, and A La Francaise definitely has a "vintage feel" to it. So, overall, I am pleased with two of them and the third, M. de Bourbon, is interesting but a bit too simple and "chemical" for me, and I have options that I perceive as superior.