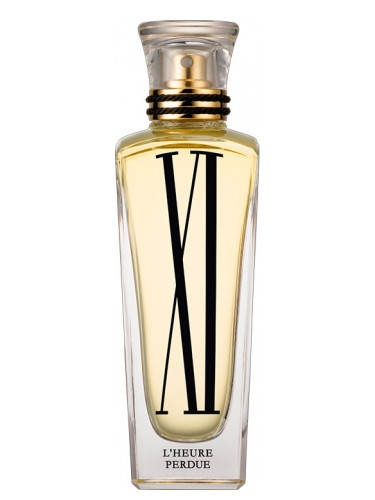 This fragrance was one of two in the free preview of the 2018 edition of "Perfumes: The Guide" to receive a 5 star rating (from Luca Turin), and since I probably enjoy fragrances with a noticeable vanilla note as much as anyone, I thought this is one I needed to write about, though buying a bottle is a different matter (Cartier web site price is $275; on ebay I saw one for $179, both 75 ml).  And with this one, you don't get a list of notes, but instead (on the Cartier site and elsewhere):
…powdered with HELIOTROPIN elegance, from someone else's desire? Voluptuous and intimate MUSCENONE like the scent of knowledge. Perhaps because everything is ruled by science, so clever in posing as natural when in fact it is a feat of alchemy, exploring the artificial through a precipitate of large synthetic molecules, particularly VANILLIN. This aldehyde with sensual aromas and a silky aura floating over the 11th hour, the lost and progressive hour, demystifying the conventional idea that beauty is only worthwhile if it is NATURAL.
First I want to address Luca Turin's review.  As you might expect, it was composed by a perfumer he has high regard for (Mathilde Laurent), and was recommended to sample by a reader of LT's blog.  This person used evocative language when describing it, including "most evocative" and, "like a memory you can't quite place, but are certain to have lived."  How could such a scent not be magnificent (sarcasm alert!)?  LT tells us that it's "heaven-scent and disquieting in equal parts," and this reminds me of his review of Bvlgari Black (I liked the idea of BB, but found it just a bit too simplistic).  We are told it has an oriental drydown featuring vanilla, labdanum, and praline.  He says the praline is fresh, but I've never encountered such a thing; perhaps he means that some of the top notes persist, such as what he claims is grapefruit.
Now this is a fragrance I wouldn't mind sampling; I might think it's worth buying (if the price ever comes way down) or I might dislike it (heliotrope notes are not my favorite unless they are subordinate).  However, let's take a look at the Fragrantica reviews, beginning with a negative one:
L'Heure Perdue opens both acidic and vanillic and a bit cardboardy musty. The scent alters between sour and cardboardy vanilla…  Not my thing, had to scrub it off due to the acidic notes underneath.
The review of another could be positive, if you like the smell of Dove soap:
This smells a bit like Dove soap. If you've been dying for the perfume version of this classic, give it a sniff.
One that is positive actually doesn't begin with a description that sounds all that laudatory:
Generally, I can't stand anything that smells too heavily of vanilla. But while L'Heure Perdue does smell sweet and vanillic, it also smells really weird. Like glue or rubber. But powdery. The parts are familiar, but they've been reconfigured in totally new ways…
Now to be fair the idea behind it seems to have been to use synthetics to create an "abstract" but not "synthetic" or "chemical" fragrance.  The problem there is that some are very sensitive to certain aroma chemicals, and so I would like the company to disclose if particular ones were used in large amounts (I'm not going to hold my breath on that happening, as you might guess).  But LT compares it to Jicky and Habit Rouge!  It sounds to me like it could be similar, in terms of the general idea, to Reveal by CK (the "feminine"), where there's something familiar (vanilla and sandalwood) with something odd added (a marine type note, clearly an aroma chemical or chemials).  Spending more time/effort and money on such a composition might indeed result in something quite interesting, though I think for me if there are some strong aroma chemical elements to it (which seems to be the case) it might be an unpleasant experience.
This is also an example of the "disconnect" between people like LT and myself. From what he has written, it doesn't seem like he will wear this scent at least a few times a year, if he ever wears it again, but he probably got at least a free sample of it.  If this scent was priced lower, I would likely try to swap for a bottle, and if that didn't work out, I'd wait for it to get to that point where it was at its lowest and buy one.  But given the pricing, I might never be able to acquire a bottle reasonably, and so I would not be interested in sampling, because I already have so many vanillic fragrances I can't imagine thinking that I "need" another, even if it is different.  The reviews do not sound good to me.  I'm not a fan of "oddball" fragrances, and I've already got a few of those, such as Perry Ellis for Men (2008), which lists notes of, "grapefruit, woody accords, resins, iris root, leather and musk."  The drydown, however, features an ambery/vanillic element along with some sort of marine type chemical (reviewers have called it blood-like or copper-ish, as in an old penny).  It cost me about $8 for a nearly full 100 ml bottle.
Is L'Heure Perdue XI better than this Perry Ellis scent?  That's where I have major problems with fragrance reviews.  Does anyone doubt that LT would say yes?  But to me what matters is whether I find the drydown to be pleasant (assuming they all have at least decent strength).  If I like both, and they aren't similar to something I've already got, then I'll try to obtain a bottle in what I consider a reasonable way.  If I could only buy the PE scent for around $12 or more I would not own it now.  I simply have too many at this point to place much emotional (or other) investment in any one.  If offered enough money (within reason, though) I don't think I'd have a problem selling any or a bunch of my bottles.  By contrast, some people (apparently LT), sample a fragrance, find it to be "artistic" and then talk about how great it is, but do they wear it on any kind of regular basis?  I think we are back to my old post about the "niche sampler" phenomenon, which I believe I observed on Basenotes.  That involved people doing a lot of sampling of less common, more expensive scents, talking about how great they were, but over time a bitter tone to their reviews emerged, along with claims about the "death" of the "art of perfumery."  My question to them would be, since you've claimed to enjoy so many fragrances in past reviews, why don't you just wear them and stop sampling/complaining?  Clearly, they were not thinking about or using these olfactory concoctions the way I do, nor in a way I suspect most people do!