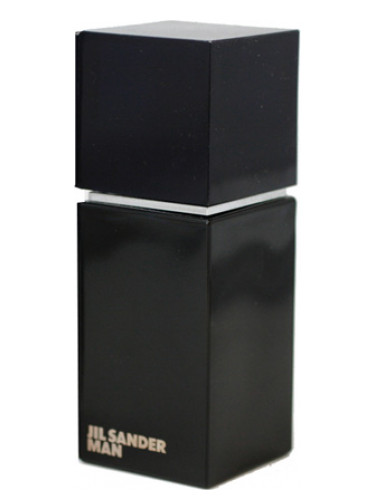 First let me make clear that what might be a "nothing fragrance" for me, might be a "masterpiece" for you, or vice versa.  As you might have guessed, this 2007 release, Jil Sander Man, is one such scent for me.  But what's interesting is the glowing reviews for it.  Before I get to those, let me me disclose the notes (from Fragrantica.com):
Top notes are lavender, violet and bergamot; middle notes are sage and vetiver; base notes are cedar, myrrh and russian leather.
Just as Fragrantica alone, we can read reviews that include the following:
…a remarkable fragrance.
…Rubbery? Yes. Smoky? Yes. Unique? absolutely.
…It opens with an aromatic flowery phase (bergamot, lavender & violet – one of my preferred flowery notes) then switch on a bitter rooty-spicy one (sage & vetiver). In the drydown, when the sweet woody-incensy combo arises (myrrth & cedar) it feels very smooth, elegant and also a bit leathery.
…I use this only at special occasions when I want to feel this wonderful smoke and leather.
…This is one of the most delicious scent I have ever felt!
…basically a woody-leathery violet scent with vetiver and cedar ("pencil") notes and a slight smoky fog.
…It is too heavy sweet and without interesting individuality. Seems even unisex because of that sugar sweetness.
…Love this! What a nice smoke, vetiver, wood combo!
…This is such a overwelaming scent ! Truly a Masterpice.
…Very much like Cacharel NEMO, about the same sillage. Also, there are a few aspects of this fragrance that remind me of Vintage YSL M7. The biggest is the AWESOME powdery drydown, not a talc, but a wonderful leathery powder. It is just awesome!
…The drydown is good and surprising. Do not let the opening fool you.
…Truly a hidden GEM ! Dark…sexy…masculine…mysterious.
My review is:
For a while I was thinking, a smoother Rochas Man, but without a coffee note (or one that is very mild). However, there is also a "fresh" element ("old school" style, not a bunch of powerful/nasty aroma chemicals). I'd say the sweetness is moderate, and it's not a strong scent overall, perhaps an "office friendly" version of Rochas Man. I'm not getting a smoky quality, as others have, and I certainly wouldn't call it a remarkable scent, though I can understand how some might really enjoy it ("dark," "sexy, or "masculine:" I'd say a "big no" to those descriptions). Don't expect to clearly smell some or even most of the listed notes – this is more of a "classy" designer blend scent. This is not the kind of scent I'd wear often, if ever really, because when I want at least some of those notes I want them to be more obvious or stronger.
To be fair, there were a few reviews that included comments that I agree with, but overall I was thinking, "how could such a 'meh' scent be described in these ways?"  In some ways, I'd say this is a good example of a scent that was blended "into oblivion."  But I can't say anything else "bad" about it, other than it may have been a scent of its time (or perhaps the time had passed it by before it was released).  The youngsters would likely say it's too "old" or "mature," and it's not what I would call an aficionado or "niche crowd" scent.  It certainly could be a good "office scent," but only in the sense that it's weak and nondescript, at least at this point in time.  Since it was released the same year I first started reading about fragrances (and in my case it was at the very end of 2007), I can't say it was perceived as an "office scent" with a bit of an edge at that time.  However, I purchased a bottle as part of a lot, so I'm not too disappointed.  I'll likely move it out by swap or sale soon, but I'm almost regretful that I "wasted" a day wearing it when I could have worn something I'd have enjoyed!