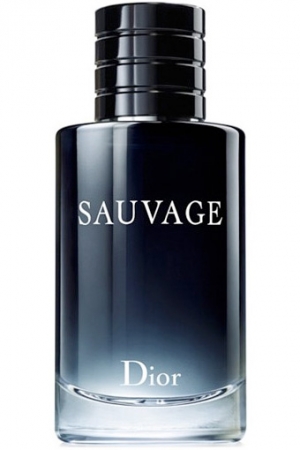 I obtained a sample of Sauvage in a swap, and finally got around to wearing it normally, though that may not be the correct way to phrase it.  What I did was to apply such a tiny amount that I couldn't feel it and didn't see any liquid on my chest.  I was afraid I might really sicken myself if I applied more than that, and of course I could always apply more if necessary.  Well, the very good news is that it is outrageously strong.  A few ml of Sauvage might be enough for a lifetime, if you prefer a lot of variety, as I do!  And more good news – I didn't sicken me (though my general sensitivity has been low for a while now), though after a while I wished I hadn't tried it again, as it was not pleasant.
I didn't get much in the way of fruity top notes – it seemed to just go straight to the drydown, at least within a few minutes, which could be good or bad news, depending upon one's preferences.  The bad news is that it smells like something I tried back around 2008 and 2009, and thought was far too synthetic to take seriously.  It is "sticky"/blob-like and reminds me of chemicals one might smell in a hair products store.  I have tried to remember which scent it was that smelled like this nearly a decade ago, but I couldn't seem to place it.  There was Samba Viva for Men, which I really disliked, but I think it was a bit different.  Could it have been something by Liz Claiborne?  Wait a moment – what about Adventurer II by Eddie Bauer?
This really surprised me.  I thought it might smell like a simplified Horizon by Guy Larouche, perhaps a a bit synthetic-smelling, because that was my impression of Sauvage on a smelling strip.  I also thought Sauvage's composition was unique, in terms of using a lot of ambroxan in a "mainstream masculine" scent.  Another idea is X-Centric by Alfred Dunhill (which lists ambergris as a note) or John Sterling:
https://www.parfumo.net/Perfumes/John_Sterling/John_Sterling
I decided to do an ankle sampling of X-Centric, Sterling, and Adventurer II, the idea being that even if they are not all that similar, there might be a similar strong accord, or that the experience might jog my memory regarding another scent I tried long ago that is more similar to Sauvage.  Starting with Sterling, this is the least like Sauvage, but it may indeed have a touch of ambroxan in it (I obtained my Sterling bottle early in my forays into this hobby and before I had sampled Green Irish Tweed, so to me Sterling is more GIT than GIT is, in terms of the name being consistent).  X-Centric is closer to Sauvage, but it doesn't have nearly as much ambroxan either, and it has a clear fruity/sweet element either doesn't exist or doesn't last long in Sauvage.  Adventurer II is the closest, and probably what I was thinking about, as it does seem to contain quite a bit of ambroxan (though it's got a bit of sweetness I don't get in Sauvage).  After a couple of hours it seems fairly close, but not quite as strong (and so, possibly wearable by me).  On a positive note, I think that these three smelled more natural to me than at any time in the past, so I may want to wear them occasionally (they had been relegated to my "sell when the price is right" bin due to being too synthetic to be bearable for hours).
My opinion of Sauvage has changed with this regular wearing, from perceiving it as having a niche-like quality to it being unwearably synthetic-smelling (and not original in any significant way).  However, as I said when I only smelled the strip, it could still be good as a room spray.  After this "regular wearing," though, I don't think I want to smell it any more, at least if I can avoid it.  This is why I like to try a scent in different ways and on multiple occasions (spread out over months if not years).  In this instance, though, I would not wear it again because it was an unpleasant experience (even with the near "homeopathic" application!).  I wonder if we will see a few more "major" releases where a strong accord from generic scents of the past is "amped up" beyond belief and presented as something "edgy."  My thought, though, is why would anyone want this?  Isn't the point of a "designer" scent that it possesses some complexity?  Didn't the "drug store" scents get criticized for being simple compositions (some called those "cheap and cheerful")?  Also, I wonder if Sauvage was designed to smell better on a card, because it smelled a lot better to me that way!
NOTE:  I still think Playboy's Berlin has some strong similarities to Sauvage, and may be best for those on a tight budget (if the person likes this kind of scent), but I'd say Adventurer II is clearly the most similar, in my experience, though it does seem to have some juniper berry included, so if you hate that note you might prefer Sauvage.