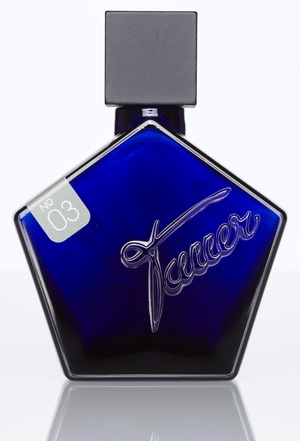 Not long ago I wrote about Andy Tauer's L'Air du Desert Marocain, and subsequently wrote a post about niche fragrances, the idea being that these seem to be mostly divided into "professional" (but sometimes derivative and "chemical") compositions and what I think are best called amateur efforts.  Now I don't think any less of the amateur efforts, and I probably wear Smell Bent scents (which I think are an excellent example of amateur efforts) as often if not more often than any other niche I own.  Lonestar Memories was released in 2006 (a year after L'AdDM), apparently as a kind of Southwestern US/cowboy compliment to L'AdDM, in other words, another landscape evocation (leathery, as opposed to L'AdDM's spicy).  Leather scents aren't exactly unpopular among the aficionado and niche crowds, whereas there are a lot more orientals (including plenty of designer ones), so why hasn't LM gotten anywhere near the attention (and likely sales) L'AdDM has?
Up front, I'll say I really don't know, other than L'AdDM apparently having a "sinus rocket" effect for some, whereas LM often comes across as burning industrial materials or overcooked meat to more than a few.  LM, though, has a special place in my memory of the early days of my research into this hobby.  When I first started reading about niche scents, no later than early 2008, LM is one that sounded the most intriguing, probably largely due to a blog post that included such praise as:
The scent is an invitation to voyage, perhaps to the Texas of Andy's memories, perhaps to some other place of your dreams …It is guaranteed to give you the most acute feeling of wanderlust, a longing for far, far away lands and a hunger for adventure. This is the scent of conquistador's glove, of the first settler's saddle, of a well-worn but still elegant leather steamer trunk of a seasoned traveler…

Lonestar Memories makes me want to escape the mundane confines of my everyday world, it makes me want to travel I do not know where in search of I do not know what…
http://perfumesmellinthings.blogspot.com/2006/06/perfume-review-andy-tauer-lonestar.html
Fragrantica.com has the notes for LM as:
The notes: green geranium, spicy carrot seed blended with clary sage. The heart features smoky leather, cistus and a hint of jasmine. The base notes includes finest woods and balms: myrrh, sandalwood, vetiver and tonka beans.
At the time, circa 2008, I had no idea if LM was something special, and could in fact evoke landscapes, at least to a far greater degree than anything else any perfumer had created prior.  In "Perfumes: The Guide," Luca Turin states that LM has:
…a wonderful smoky base that he first used to great effect in L'Air du Désert Marocain. His second fragrance, LM is softer, a touch more carnation-like, and wonderfully warm while retaining a salubrious ambiance Joseph Lister would have approved of  Strange but nice.
First of all, I can't imagine anyone calling LM "nice" in the sense of cute; perhaps he meant it in the context of the "art of perfumery."  Second, I get nothing "antiseptic" in LM, and I certainly remember Lysol and other, similar products (however, the last couple wearings were from a dab sample vial, which may have obscured some top notes).  Instead, as a few others have noted, LM has a strong root beer or sarsaparilla quality at first, along with obvious leather and a kind of burning industrial element.  As a newbie I thought it had a burnt meat sort of element, but the last two times I wore it (recently) I did not get anything of the sort.  What's interesting is that over time an old, "feminine" scent begins to assert itself.  I had worn one of that time not too long ago, but I don't remember whether it was Ecusson or Intimate by Revlon (or possibly something else, for example Cabochard).
I don't get anything "carnation-like," but the listed jasmine seems right.  I would agree that this is a strange scent, and now that I'm thinking of it, the "problem" with LM may be that the base is too "old lady" for a lot of people, whereas this is not the case with L'AdDM.  For me, the problem with LM is that I prefer a few other leather scents to it, and all of those cost me less than what LM sells for, in some cases much, much less.  It's not Mr. Tauer's fault that one can go to yard sales or ebay and sometimes find an old leather scent that smells great, whereas that is highly unlikely to occur with one of his bottles, but it does factor into the buying decisions someone like myself makes.  On ebay, I've noticed that L'AdDM bottles get snapped up fairly quickly, even when the prices are not that much lower than retail, whereas recently an LM bottle that looked at least 80% full lasted for days on ebay at $75 total (and I hadn't seen an LM bottle there for quite a while).
In any case, I decided to write about LM because yesterday I wore vintage Cabochard EdT, and one thought I had was, "this is LM without the 'bells and whistles.'"  For me, once the drydown comes, Cabochard is actually less "old lady" than LM, and overall the composition is more coherent.  However, if you like LM and can afford a bottle, I'm glad you found something to enjoy.  I do wonder, though, how many who write reviews of LM on the major sites have had the opportunity to try scents like vintage Cabochard, The Knize Ten, Bandit, Bel Ami, etc.  Tauer's idea seemed to be to include powerful and "statement-making" top notes in an effort to evoke a landscape or even a time and place (such as a garage someone walked through as a child), and many appear to relate to this.  But what can perfumers do that would be "groundbreaking" or "really special?"  Some seem content with a strong, odd top notes experience and a rather common drydown, but I prefer to sample scents by a company like Smell Bent if I want a very different kind of olfactory experience.  On that note, I'll close with a quote from a Fragrantica.com review of SM's Brussels Sprouted scent (I intend to write a post about some of these Smell Bent scents one of these days):
…Very very close [to] Pentachords Verdant (Tauer) but better AND cheaper… There is less soil tincture and more green notes softened by the musk.  It's strange it can be a "green" perfume (a green house filled with dark earth) but maybe also the smell of a city after the rain, like a mix of dust,concrete,pollution and wet tar. That depend of your imagination…