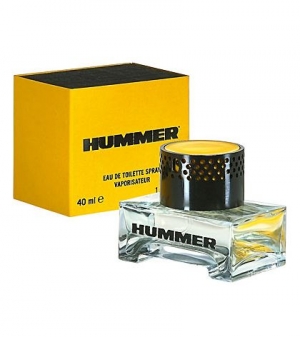 It's interesting how some fairly good scents can get a bad reputation, at least among the online crowd, rather quickly.  And the opposite can happen as well; for example, I can't understand the interest in Timbuktu, other than because it was "hyped" early in the online niche craze of several years ago (and got an excellent review by Luca Turin in his "Perfumes" book).  I'd much rather wear Hummer (vintage Riviera Concepts formulation, at least – I haven't tried the EA version), and in fact, I never found any aspect of Timbuktu to be worthy of praise.  By contrast, an early Basenotes.net review of Hummer included the claim that it was a "bummer," and the most prolific reviewer there, Foetidus, agreed with this assessment (did they sample a non-vintage formulation? – it's too bad they didn't disclose this information!).
On Fragrantica.com, one reviewer had this to say:
Hummer was absolutely fantastic when it was first released, I was smacked up by a butch musk. Unfortunately, being contracted to Arden, it has been carted out with the bananas and put on special, but if youd been there a few years ago when [I first] tried it, you'd have bought a trolleyful lol
All I could say was WOW MUSKY!!!

I think we should all keep in mind, this fragrance is licensed to Elizabeth Arden. What that means to me: Every fragrance I have loved that I found was licensed to EA has turned cheap on the re-release. I bought Hummer and it was gorgeouse, the second bottle I bought was nowhere near the same, almost undetectable…
It is musky, though not in an "old school" unbearably strong way, and the caraway seems to impart what many might call a "sweaty" quality.  Fragrantica lists the notes as:
Top notes are pimento, caraway and cardamom; middle notes are leather, sandalwood, amber and patchouli; base notes are thyme and tonka bean.
The first time I used one spray, and got the caraway, thyme, musk, and a touch of sweetness, certainly not as sweet as I expected with amber and tonka listed.  The second time I used two full sprayed, but still didn't get distinct leather, patchouli, or sandalwood, and there was still on a touch of sweetness.  It's a bit dry, though, with some spice – at least a few people have claimed  strong lavender.  I'm not sure that's the case, or if it's the thyme and some combination of the other notes (perhaps with a relatively weak lavender note).  In some ways, my thought while wearing this is, "this is a better idea (but similar to) than the traditional fougere."  Then there are the older "masculine lavender" scents, which don't possess enough coumarin to come across as fougeres – these too can become irritating to me rather quickly.
In some ways, it reminds me of a softer, smoother, less discordant version of Original Musk by Kiehl's (I think the florals in OM create a really sharp quality) – both share listed notes of patchouli and tonka, and there is an obvious muskiness to both.  Unfortunately, I just don't find these kinds of scents to be especially pleasant (and the dryness only works in a small number of compositions for me).  By contrast, vintage Red for Men, which also has some of these strong notes (caraway in particular) is much more enjoyable.  My guess is that this is due to a number of factors: it's sweeter, more complex, more dynamic, and doesn't have the strong thyme/lavender type quality of Hummer.  But Hummer is certainly no "bummer," at least not this formulation.  Like other scents that seem too "niche" for the company that markets it (KISS Him is another good example), I think that even "seasoned reviewers" may dismiss these too quickly, especially if the composition is not to their preferences.
Hummer 2 is more conventional and less interesting (a "fresh"oriental), though I think I can still enjoy that one when I'm in the mood.  There's a kind of designer scent "fresh" aroma chemical haze that is too strong relative to the spice, patchouli, incense, leather, and amber (I'm not even sure I can detect some of those notes!).   The notes for it are:
Top notes are cinnamon, mandarin orange and bergamot; middle notes are fir, bourbon pepper, cardamom, patchouli and sandalwood; base notes are incense, myrrh, leather and amber.
I'm not sure if it was ever made by a company other than EA Fragrances, which is listed on the bottle I own, but if it was, I'd guess those notes are more prominent.  I can certainly understand how many would be disappointed after reading the note list and then spraying it on.  However, it may be more "disrespected" than is warranted; perhaps the association with gas-guzzling, "road hogging," Hummers is part of this.  At "bargain bin" prices, though, these are certainly worth trying, and if you are a fan of these kinds of compositions, a "blind buy" would seem worthy of consideration.
UPDATE:  Someone wrote up a comment saying this scent doesn't deserve a blog post because it is equivalent to excrement (not the actual word used). I won't approve it because I don't want to "feed the troll."  Such a comment is not helpful, since there are already several negative reviews and the person isn't adding anything to that perception.  Obviously, you need to explain why you don't like a scent or else reasonable people are going to think your opinion is probably not worth a whole lot.  Furthermore, the notion that a "bad" fragrance should get no attention is very strange to me, especially in this case, because Hummer scents are the type you might find in a "bargain bin," but not be able to sample.  Beyond that, why wouldn't someone want to know to avoid a scent – I often see these scents at very low prices and I'm tempted.  In one case, I saw guaiac wood listed as one of three base note, so I didn't go through with the possible blind buy, due to my previous unpleasant experiences with that note.  The other notes looked great, though, and it would have been very useful if there was a review that spoke to the strength of the guaiac note, no matter if the reviewer loved or hated the scent (or anything in between)!